Orgue à bouche rencontre Grand-mère
Musique Classique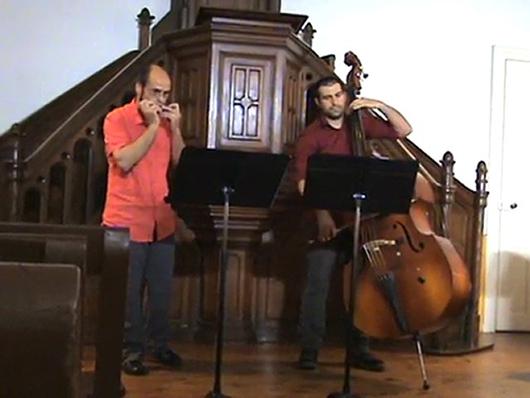 Michael and Eric met while accompanying folk singer "M PYL." After touring for 3 years in a large part of France, Michael wanted to embark on a new project: interpreting classical music on the harmonica.Not finding cellist to accompany Eric suggested he give it a trywith the bass. The mixture of sounds and alchemy that resulted made ​​them continue the project.Although they use instruments popular recent bill, the two musicians have chosen to focus on the classical repertoire of the Baroque period.To explore different musical forms and various sources of inspiration, composers of various nationalities will be honored: Bach, Telemann, Albinoni, Handel and Rameau or Couperin. Sonatas interspersed with shorter pieces, the keyboard compositions interspersed with duets, but the directory is never frozen.
Michael Devineau: harmonica
Eric Mandret: upright-bass
Website:
http://orgueabouche.wix.com/grand-mere#!
Back to previous page