Harmonicas Sur Cher Coffee Table Book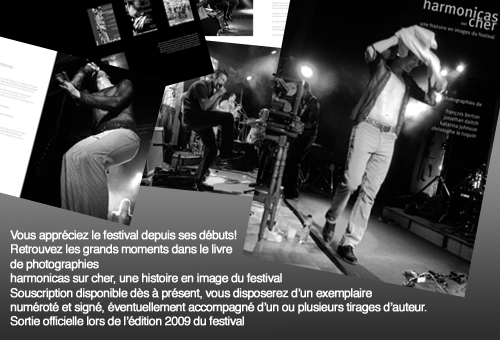 © Katacri
In order to help kickstart the financing of the next edition of the Harmonicas Sur Cher festival, we have decided to release a book collecting the best pictures made by professional photographers over the years at the festival.
This book not only documents the on-stage performances and the artists, but it also tracks what happens in the streets, in the bars, during breaks, masterclasses, long nights of jamming.
It features the famous and the unknown, the great multitude that is gathered every year during the Ascenscion week-end in St Aignan for one reason only: their love of the harmonica.
You'll see on the book, artistic pictures of Howard Levy, Jason Ricci, Brendan Power, Steven de Bruyn, Jean-Jacques Milteau, Thierry Crommen, Barefoot Iano, Michel Herblin, Christelle Berton and many other... We promise to you, it's an awesome book. And yes, this is Jason Ricci on the cover.
He didn't write fondly about France after that event, but he is remembered very fondly by the festival organisers and attendees alike.
"The closest thing to seeing Jim Morrison alive" is how someone put it to our friend Ben Felten, after that night.
Contents
Introduction by Jean-Jacques Milteau.
Pictures made by professional photographers, François Berton (France), Jonathan Daitch (USA), Katarina Johnson (Sweden) and Christophe Le Toquin (France)
128 pages, size 18x24 cms, about 87 black and white pictures.
95 limited numbered edition available on subscription:
5 limited numbered edition from I to V, signed by the authors, includes four original and signed prints. Only one of these is still available, please contact us by email if you're interested
16 limited numbered edition from VI to XXI, signed by the authors, includes one original and signed print.
74 limited numbered edition from 22 to 95, signed by the authors.
All of the money will go to pre-financing the next edition of the festival.

For more specific information, contact Christophe at info@harmonicasurcher.com.

So now, you can ordered the book with Bank card or your paypal account in any currency. See the button below.
If you live abroad the cost of shipping is 10€ as specified on the following prices:
Limited Edition Numbered VI to XXI with signed original print: €50,00 + €10,00
Limited Edition Numbered 22 to 95: €30,00 + €10,00